Online Courses offered through the Innovation Center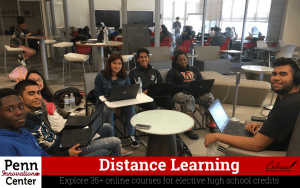 William Penn High School offers a wide variety of online courses. These courses supplement our 19 different degree programs, offering our students additional opportunities, all through personalized digital learning. Similar to current college experiences, our courses are a blended approach between an online curriculum and a William Penn instructor. These courses encourage freedom and flexibility and empower students to experience personalized learning beyond our own classroom walls.
Program Vision: The Distance Learning Program at William Penn High School provides opportunities for an engaging, unique curriculum that is relevant to students' interests in an individualized learning environment.  Students have access to well-trained staff in a blended approach that provides support for varying abilities and backgrounds.  Distance Learning empowers students to personalize their education through self-paced courses where autonomy fosters 21st-century skills necessary for the reality of virtual learning beyond graduation.
For further information, contact our Distance Learning Coordinator, Sarah Cuje.
Contact Ms. Cuje today via Zoom, Schoology, or Email:
Schoology: Private message
Email: sarah.cuje@colonial.k12.de.us
To enroll in online courses, complete the application below. The application will be approved by both the counselors and Ms. Cuje in the Innovation Center. Once approved, registration is processed in the Innovation Center. Course platforms are through Florida Virtual School or Edgenuity web-based programs. Many use Schoology as the learning management system.
Based on three years worth of data, it appears that GPA is a strong indicator of students' success in distance learning courses. Therefore, the following indicators have been established as prerequisites for entering DL online courses:
GPA of 2.5 or higher
Prior success in DL online course*
Complete and pass Readiness Course with 80% or higher- students who do not meet the GPA requirement can earn their way into the program by completing a practice unit
*Successful completion of prior DL course means students earned a final grade of C or higher
If your GPA is less than 2.5, don't worry! You can still earn your way into the Distance Learning Program. The Readiness Course is a one-unit course that lets you practice what real Distance Learning online courses will be like. The purpose is to ensure (a) you like this style of learning, (b) you practice how to submit assignments, and (c) are ready for a real online course.
When you complete the lessons/assignments and pass the Readiness Course with 80%, you'll be able to move on to choosing what real DL course(s) you want to take!
Follow these steps to join and start the Readiness Course:
Log into colonial.schoology.com
Click on "Courses" then "My Courses"
Click "Join Course"
Enter this access code:

RFT5-NDM2-F456B

Click the Start Here Folder
Complete all activities and assignments in the Start Here and Unit 1 folder
If you have a GPA of 2.5 or higher, have successfully* completed a prior DL course, or have passed the Readiness Course with 80% or higher, you may now choose which course(s) you'd like to take! Complete the google form below and Ms. Cuje will add the course(s) to your schedule.
*Successful completion of prior DL course means a final grade of C or higher
Ms. Cuje will review all applications and if all eligibility requirements have been met, will add the chosen course(s) to your schedule.
View Distance Learning (online) courses, filtered by Semester/Full Year