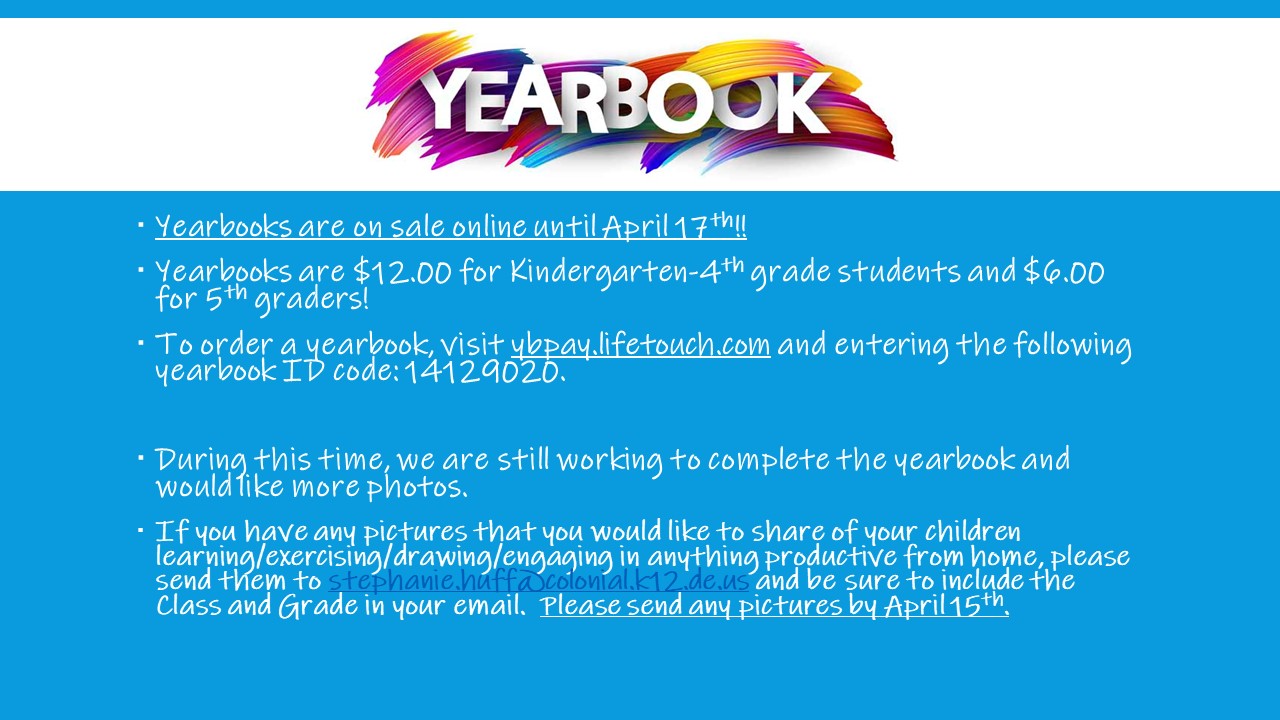 Registration and Enrollment
To learn more on how to  enroll in New Castle Elementary, click here
DOE School Profile
Lunch Menus
Box Tops
Title I Information
Student Handbook
New Castle Elementary School is located just on the outskirts of Old New Castle. The school was built in 1929 and housed the original William Penn High School, New Castle Middle, and The New Castle School. Therefore, our school building is rich in history and has many memories for families in the New Castle area. Also known as "The Castle", our school has the motto- "We will go above and beyond the call of duty to ensure that every student is successful every day!" The population is culturally diverse, serving multi-racial/multi-ethnic children. New Castle Elementary provides a plethora of services that are geared toward the individual learner. Students are provided an individual learning program based on the instructional data that is taken from a variety of measures. Academic programs are designed to meet the needs of varying ability level.
New Castle School opened its doors for the first time as an elementary school on August 26, 2013.
There is an ultimate goal for students this school year. That goal is to grow toward becoming leaders, not only in the academic setting but also in the community. With the guidance of the book, The Leader in Me by: Stephen R. Covey, Sean Covey, Muriel Summers and David K. Hatch and their classroom teachers, New Castle Elementary students will set goals, monitor their goals, conference with teachers and parents to communicate his/her preferences regarding learning and take ownership of events in school such as the Honor Roll and Student of the Month assemblies.
Our schools is equipped with the most up to date technologies such as SMART televisions, I-Pads, SMART Boards, Chromebooks, Laptops, Apple TV's, Document Cameras and Amplification Devices that are used on a daily basis to provide the best instruction possible for NCE's students.
Students are immersed in technology in all grade levels with a weekly technology course. At the Kindergarten level students work on the basic computer skills. Fifth graders create visual presentations and research information for a variety of projects.
Everyone (Staff and Students) in NCE practices healthy eating habits on a daily basis for free through a Fresh Fruits and Vegetables Program Grant.
Our school is staffed by highly qualified teachers who are passionate about their profession. The staff has been trained by some of the top educational consultants in the United States. In addition, teachers receive professional development opportunities monthly to enhance their ability to keep up with the demands and changes in the greater society.
Name
email and extension
room
Winnie Zhu

Runsheng.Zhu@colonial.k12.de.us
X2192
001
Melissa Schurbon
Melissa.Schurbon@colonial.k12.de.us
X1061
106
Kaitlyn Headley
Kaitlyn.Headley@colonial.k12.de.us
X2195
004
Rebecca Olson
Rebecca.Olson@colonial.k12.de.us
X1071
107
Sarah Nocito
Sarah.nocito@colonial.k12.de.us
X2193
002
Name
email and extension
room
Jingyi Wu

Jingyi.Wu@colonial.k12.de.us
X1051
105
DeShawn.Lowman@colonial.k12.de.us
X1101
110
Tracy Barnes

Tracy.Barnes@colonial.k12.de.us
X1121
112
Amy Arlington
Amy.Arlington@colonial.k12.de.us
X1141
114
Name
email and extension
room
Kingsley Colby
Kingsley.Colby@colonial.k12.de.us
X1201
117
Emily Cooper
Emily.Ridall@colonial.k12.de.us
X1181
118
Thomas Reist
Thomas.Reist@colonial.k12.de.us
X1191
119
Katie Barrett
Katie.Barrett@colonial.k12.de.us
X1211
121
Bieni Qian
Beini.Qian@colonial.k12.de.us
X1201
120
Name
email and extension
room
Qian Zhang

Qian.Zhang@colonial.k12.de.us
X2051
205
Chanell Rogers
Chanell.Rogers@colonial.k12.de.us
X2061
206
Dana Osborn
Dana.Osborn@colonial.k12.de.us
X2071
207
Brenda Hartman
Brenda.hartman@colonial.k12.de.us
X2081
208
Melanie Prince
Melanie.Prince@colonial.k12.de.us
X2041
204
Name
email and extension
room
Jennifer McConnell
Jennifer.McConnell@colonial.k12.de.us
X2021
202
Tainikka Saunders
Tainikka.Saunders@colonial.k12.de.us
X2151
203
Stephanie Hart
Stephanie.Hart@colonial.k12.de.us
X2111
211
Tameka Wingo
Tameka.Wingo@colonial.k12.de.us
X2111
211
Yijia Wang
Yijia.Wang@colonial.k12.de.us
X2131
213
Marcia Walton
Marcia.Walton@colonial.k12.de.us
X2121
212
Name
email and extension
room
Ivana Welch
Ivana.Welch@colonial.k12.de.us
X2011
201
Joseph Gleason
Joseph.Gleason@colonial.k12.de.us
X2141
214
Khalilah Williams
Khalilah.Williams@colonial.k12.de.us
X2151
215
Mary Rock
Mary.Rock@colonial.k12.de.us
X2001
200
Marcia Walton
Marcia.Walton@colonial.k12.de.us
X2121
212
Name
Position
email and extension
room
TeRay Ross
Principal
Teray.Ross@colonial.k12.de.us
X2011
Main Office
Marc Emerick
Assistant Principal
Marc.Emerick@colonial.k12.de.us
X2101
210
Carmen Corsi
Secretary
Carmen.Corsi@colonial.k12.de.us
X1001
Main Office
Tanya Aviola
Guidance Counselor
Tanya.Aviola@colonial.k12.de.us
X1021
Main Office
Melissa Eger
Special Education Coordinator
Melissa.Eger@colonial.k12.de.us
X2195
004
Chelsea Derkacz
Occupational Therapist

Chelsea.Derkacz@colonial.k12.de.us
X2196
005
Lachelle Smith
Behavioral Specialist
Lachelle.Smith@colonial.k12.de.us
X1041
104
Amy Davidson
Nurse
Amy.Davidson@colonial.k12.de.us
X1231
Nurses office
Courtney Waters-Stroman 
Family Support Therapist
Courtney.Waters-Stroman@colonial.k12.de.us
X1031
103
Irv Simpkins
Psychologist
Irv.Simpkins@colonial.k12.de.us
X2195
004
Li Li Lin
Immersion Coach
001A
Stacey Treut
Reading Interventionist

Stacey.Treut@colonial.k12.de.us
X1082
108A
Mary Anthos

Reading Interventionist
Mary.Anthos@colonial.k12.de.us
X122
1221
Mary McLaughlin
Reading Interventionist
Mary.Mclaughlin@colonial.k12.de.us
X122
1221
Katie Kerrigan
Math Coach
Katie.Kerrigan@colonial.k12.de.us
X1151
115
Mary Kay DeCampli

Math Interventionist
Mary.Decampli@colonial.k12.de.us
X1151
115
Donna Beck
ESL/ELL
Donna.Beck@colonial.k12.de.us
X1091
109
Samantha Stemm
ESL/ELL
Samantha.Stemm@colonial.k12.de.us
X1091
109
Audrey Boney
Communities in Schools
Audrey.Boney@colonial.k12.de.us
X1133
Library
Name
Position
email and extension
room
Deanna Perry
Music
Deanna.perry@colonial.k12.de.us
X1111
Music Room/111
Stephanie Roberts
Technology
Stephanie.Huff@colonial.k12.de.us
X1131
Library/113
Tracy Bauman
Art
Tracy.bauman@colonial.k12.de.us
X2197
Art Room/Behind Stage
Krisinda Alberto
Physical Education
Krisinda.Alberto@colonial.k12.de.us
X1111
Gym
Abigail Lang
Physical Education
Abigail.Lang@colonial.k12.de.us
X1111
Gym
Kerry Schussler
Band
Kerry.Schussler@colonial.k12.de.us
X1111
Music Room/111
General Info
Principal: Teray Ross (teray.ross@ colonial.k12.de.us)
Assistant Principal: Marc Emerick (marc.emerick@ colonial.k12.de.us)
Grade Levels: K-5
Phone 302-323-2880
Location
903 Delaware Street
New Castle, DE 19720
School Hours
8:15 AM Doors to school open **
8:30 AM School day begins.
(Students are late after 8:30)
3:15 PM School day ends / Dismissal
" We are looking forward to a wonderful school year for all of our Scholars!  Please help us by encouraging your child to do their absolute best each and every day.  Should you ever have a question or need assistance, please feel free to contact the school or your child's teacher."
Language immersion is an educational approach in which students are taught the curriculum content through a second language. Students receive math, science, or social studies instruction in a target language, such as Spanish or Chinese. Because of the teaching strategies used, students are able to develop literacy skills in both English and the target world language while attaining academic achievement that is at or above their grade level. In addition, students will develop a world cultural sensitivity
How does it work?
In the classroom, students benefit from two highly-qualified educators – one for each language. An English-speaking teacher will provide instruction in in certain subjects for half of the school day. Students will then transition to a Chinese or Spanish-speaking teacher who will deliver lessons in the second language. Immersion students follow the same curriculum, in all content areas, that all students follow in any Colonial elementary classroom.
The Immersion Teacher will speak entirely in Chinese and communicates using a range of strategies including pictures, songs, games, body language, expressions, drama, etc. Young learners are adept at acquiring language in meaningful contexts. After a brief period at the beginning of the year, students will be encouraged to speak only in their new language during that portion of the day
Why Chinese?
Chinese is the most widely spoken first language in the world. The Mandarin dialect is the official language of China and Taiwan and is widely spoken in Indonesia, Thailand, Malaysia, Singapore, Brunei, the Philippines, and Mongolia. According to the most recent US census, Chinese is actually the third most spoken language in the United States.
China is the heir to the traditions of one of the world's richest and most ancient cultures and is the world's second-largest economy. According to a Bloomberg study of the most important languages for international business, Mandarin Chinese ranks first after English. China's economic, political and cultural impact in the next few years will have a significant impact on the world. As business relationships deepen between Delaware and China, having skills to communicate in Mandarin will be an invaluable economic advantage.
What does a day in Chinese Immersion look like?
The kindergarten day is divided into halves. Half of the day spent in the English classroom, half in the Chinese classroom:
Subjects taught in the English Classroom:
• Language Arts
• Social Studies
• Bridging Lessons
Subjects taught in the Immersion Classroom:
• Math
• Chinese Literacy
• Math
• Science
Who can participate?
The Chinese Immersion Program is open to any Delaware resident. Families who wish to enroll an incoming kindergarten student must complete a  "School Choice" application (click here to download). A lottery will be held to determine admission if requests exceed capacity.