Nurses Corner
Coming Soon
DOE School Profile
Lunch Menus
Student Handbook & Code of Conduct
Title I Information
Take a Tour
Room L-1
Marissa Ranauto
Special Education Teacher
marissa.ranauto@colonial.k12.de.us
Tilesha McFee
Paraprofessional
tilesha.mcfee@colonial.k12.de.us
Chante "Chay" Doran
Paraprofessional
chante.doran@colonial.k12.de.us
Room L-2
Jennie Tacchi
Special Education Teacher
jennie.tacchi@colonial.k12.de.us
Kim Marandola
Paraprofessional
kim.marandola@colonial.k12.de.us
Jessica Kilbblehouse
Paraprofessional
jessica.kibblehouse@colonial.k12.de.us
Room L-4
Katheryn Rzucidlo
Special Education Teacher
katheryn.rzucidlo@colonial.k12.de.us
Sherise Brown
Paraprofessional
sherise.brown@colonial.k12.de.us
Madia Gray
Paraprofessional
madia.gray@colonial.k12.de.us
Room L-5
Regina Materese
Special Education Teacher
regina.materese@colonial.k12.de.us
Leslie Calhoun
Paraprofessional
leslie.calhoun@colonial.k12.de.us
Jessica Rauber
Paraprofessional
jessica.rauber@colonial.k12.de.us
Danielle Lundberg
Paraprofessional
danielle.lundberg@colonial.k12.de.us
Occupational Therapists
Kristin Chickadel
kristin.chickadel@colonial.k12.de.us
Tara Kulak
tara.kulak@colonial.k12.de.us
Thomas Winkler
thomas.winkler@colonial.k12.de.us
Physical Therapists
Kathleen Benson
kathleen.benson@colonial.k12.de.us
Kristin Capone
kristin.capone@colonial.k12.de.us
Kimberly Duch
kimberly.duch@colonial.k12.de.us
Christine Palmer-Casey
christine.palmer@colonial.k12.de.us
Speech Language Therapists
Deborah Ford
deborah.ford@colonial.k12.de.us
Liz Merrick
elizabeth.merrick@colonial.k12.de.us
Amy Miklos
Amy.Micklos@colonial.k12.de.us
Barbara Brooks (Assistive Technology)
barbara.brooks@colonial.k12.de.us
Location
10 Landers Lane
New Castle, DE 19720
School Hours
8:15 AM Doors to school open **
8:30 AM School day begins. (Students are late after 8:30)
3:15 PM School day ends / Dismissal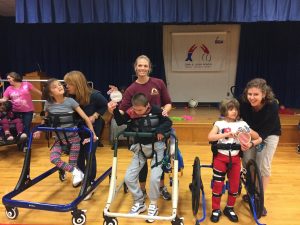 The John G. Leach School, known initially as the Delaware Day School and founded by the Delaware Easter Seals Society, began as a public day school for youth with physical disabilities.  In 1953, it was renamed for John G. Leach, a prominent educator, humanitarian, and advocate for the disabled.  Leach School serves pupils residing in New Castle County, ages 3-21, who have physical disabilities, moderate to severe cognitive disabilities, or serious health impairments.  Leach School's functional education and training as well as access to a traditional academic curriculum are individualized for students.  Students have the opportunity to develop their capacities for independence and academic success through their participation in a functional life-skills curriculum; supportive therapy – physical, occupational, and speech; pool program; adapted physical education; music; community-based instruction; and assistive technology programs.
Leach School staff and families strive to equip students with skills to think for themselves, appreciate the contribution of others, ambulate with increasing independence, learn on their own and communicate their thoughts and ideas effectively.
John G. Leach School staff and administration work collaboratively with parents, community, state and district groups to empower students to reach their fullest potential as independent and productive citizens. Leach School provides focused and motivating learning environments for all students. All staff engages in professional development to provide state-of-the-art programming. Our goal is to employ "best practice" methods, including the use of technology, individualized programming, functional mobility, and meaningful peer interaction opportunities. Our school/parent collaboration has been an integral part of our program's success. These efforts led to Leach School's recognition as the nation's first M.O.V.E. (Mobility Opportunities Via Education) Model Site, twice the recipient of the State of Delaware Parent Partnership Award, the Delaware State Chamber of Commerce Superstars in Education Award and our First Friends Preschool was recognized by the ARC of Delaware's "Program" award.
Our Vision, Mission, and Core Beliefs
 Vision
"Our vision is to empower every student to become college and career ready by achieving his or her academic potential in a safe, positive, and nurturing school environment."
Mission
"Our mission is to create a learning environment in which students are empowered to exercise their full academic ability. We will foster a collaborative atmosphere utilizing research-based techniques and practices so that students will reach their potential as independent, contributing members in a global society."
Core Beliefs
"Every child can and will learn."
"They're all our students. We must work together to figure it out."
"Do what is best for kids. Try to make a difference every day."
"It is important to build positive relationships – with staff, students, parents, principals, community."
"Have goals and expectations, and try to rise to the challenge to meet them."