Click here to view William Penn Remote Class Schedule–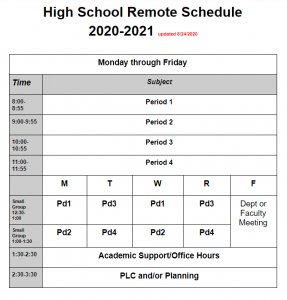 Individual student schedules can be found in Schoology or Home Access Center.
Steps for Student and Parents for the first week of school:
Go onto Schoology or Home Access Center to view your schedule
First Semester are your "A-Day" classes
Periods 1, 2, 3 and 4 will meet everyday for the first half of the year
Zoom links for your classes

Will be emailed to students by the teachers 
Are also located in Schoology Courses
If you can't find the zoom link, email the teacher 
First Week of School Schedule:
Students with the last name beginning with A to L

9/8/20-1st Day
9/9/20-2nd Day
Students with the last name beginning with M to Z
9/10/20-1st Day

9/11/20-2nd Day
9/14/20-All Students Report to School
Schoology Access
Students will use either the Schoology link on their Chromebook or can go online by clicking http://www.colonialschooldistrict.org/student-portal/
One Pager for Schoology Parent Access
Chromebook Information
Students can log onto their Chromebook or the portal by using their:
Home Access Center (HAC)
This is where you can access student schedules
Home Access Center (HAC) is open.  All student schedules were uploaded for parents on Monday, August 31 at 2:00 p.m.  Parents and families can access HAC using the same username and password from previous years.  If you do not remember your username or password, you can attempt to recover it by selecting:  Home Access Center Password Recovery.  If the password recovery does not work you can submit a request for us to reset your password by clicking here: Reset my password.  Password resets will take approximately 48 hours to complete.
You may also email any administrator, secretary or your child's counselor to get help on resetting your password. Email addresses are found on the William Penn HS website under the "contact us" link.     William Penn Website