-2021-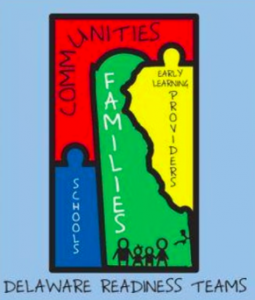 Colonial Readiness Team (CRT) & CEEP Policy Council
For the 2020-2021 school year, CRT Meetings and CEEP Policy Council Meetings are combined and will be virtual, until it is safe to return to face-to-face meetings. 
2020-2021 Meeting dates, times, and Zoom links will be posted soon.
DE Readiness Teams & CRT Information:
There are 19 Readiness Teams throughout the state of Delaware, each representing a different community.  To learn about Delaware Readiness Teams, please visit: https://www.delawarereadinessteam.com/ 
THE DELAWARE READINESS EQUATION: READY COMMUNITIES + READY FAMILIES+ READY EARLY LEARNING PROGRAMS + READY SCHOOLS = READY CHILDREN
The CRT is committed to representing ALL Colonial area children ages Birth-8 and their families.  ALL Colonial area educators, families, early learning providers, community agencies that serve young children, and community stakeholders are invited to attend CRT meetings and to participate in CRT initiatives. 

CRT Vision Statement:

​ ​All Colonial families will feel welcome in our community. They will have equal access to high quality, affordable early childhood programming, healthcare, and community resources to be prepared for today, tomorrow, and the rest of their lives.
CRT Members are Colonial Early Childhood & Elementary staff, Colonial administrators, local Early Learning Providers (ELPs), local Head Start staff, Colonial family members, community members & related professionals. ALL who are committed to supporting children ages birth-8 and their families in the Colonial Community are welcome & encouraged to participate in our meetings and our initiatives. For more information, contact Dawn Alexander, Colonial Readiness Team's Team Leader, via phone at 302-429-4096 or via email at dawn.alexander@colonial.k12.de.us.

CEEP Policy Council Information:

Policy Council Members are: Colwyck parents and family members, C

ommunity Partners who serve young children and their families, and c

ommunity Members interested in supporting early learning

CEEP Policy Council Leadership Roles include Chairperson, Vice-Chairperson & Secretary

The CEEP Policy Council provides feedback to CEEP leaders and staff regarding Colwyck's

 policies and procedures,

School Readiness Goals/Student Success Plan, and s

tudent and family events

The CEEP Policy Council reviews the Weighted Criteria used to admit ECAP students for the following year.

 
2020-2021 Events & Meetings:
9/22/20-1:00-2:00 PM FREE Mental Health/Stress Reduction Family Information Session.  CLICK HERE to learn more & to register. 
CRT Activities/Initiatives:
Supporting on-time kindergarten registration.

Educating families and the Colonial community about Developmental Milestones and the importance of Developmental Screening. 

Partnering with The DE Department of Public Health to support the Early Childhood Comprehensive Systems (ECCS) Grant.

Educating Colonial families about available community services and resources, such as how to access medical services, how to apply for food benefits, where to find PAT playgroups, how to access Parenting Classes, how to apply for Purchase of Care, etc.