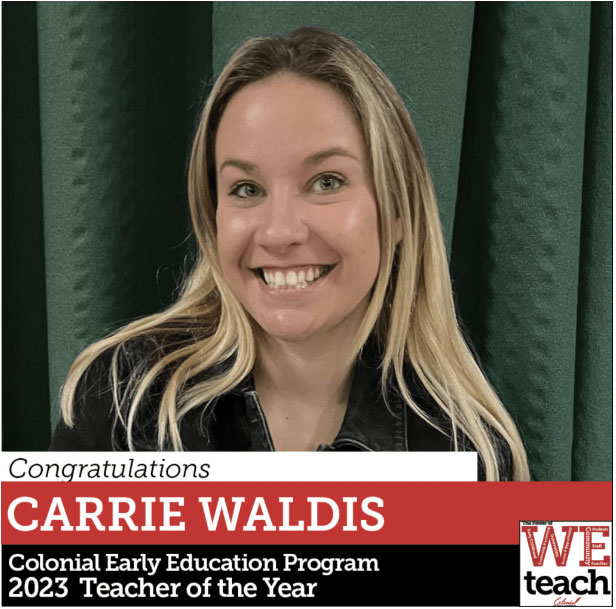 PRESCHOOL APPLICATIONS + Application Information
ALL FAMILIES MUST COMPLETE 1) THE ONLINE APPLICATION AND 2) THE TWO ASQ SCREENERS 
LINK TO THE ASQ SCREENERS
– The ASQ Developmental Screener and the ASQ Social Emotional Screener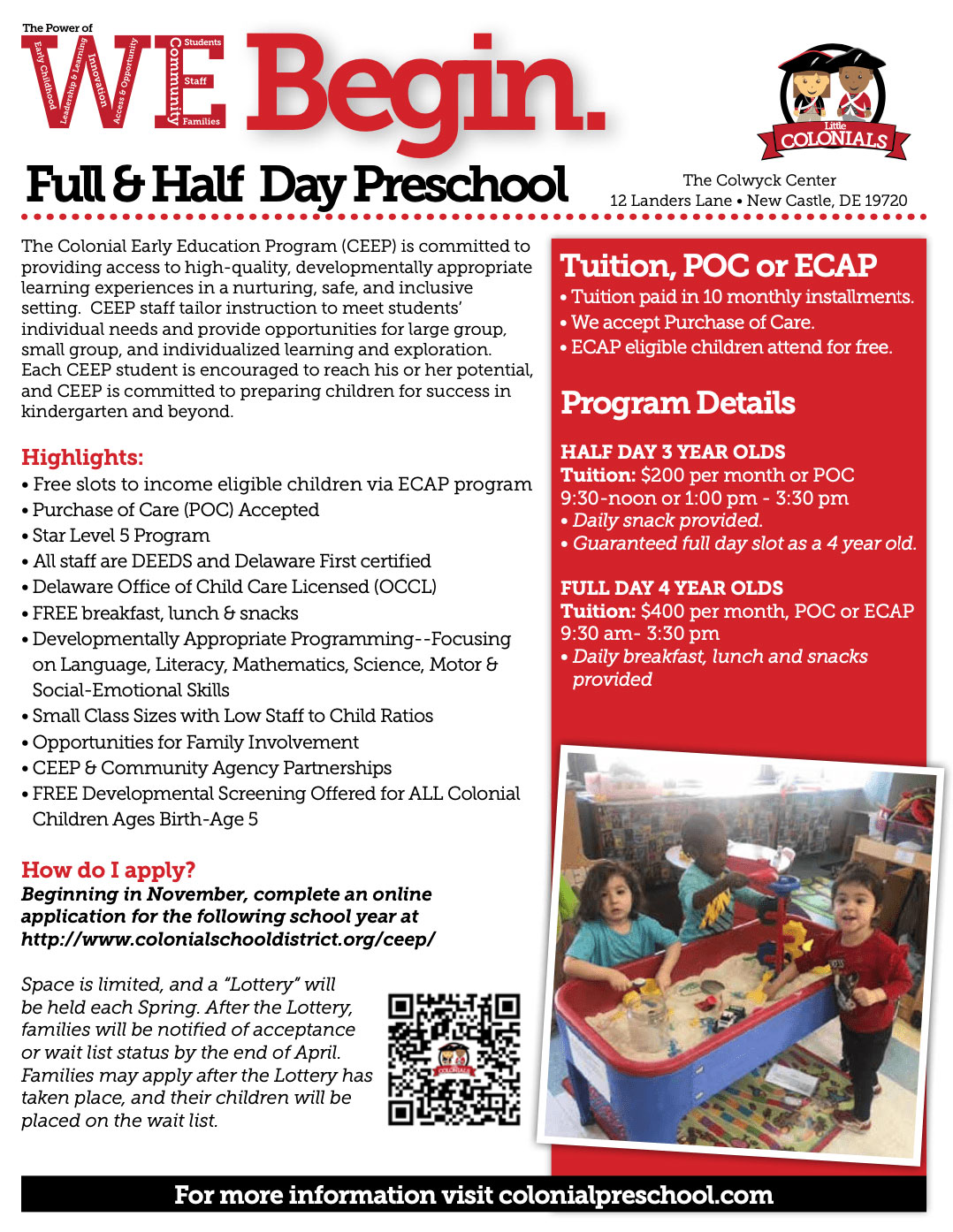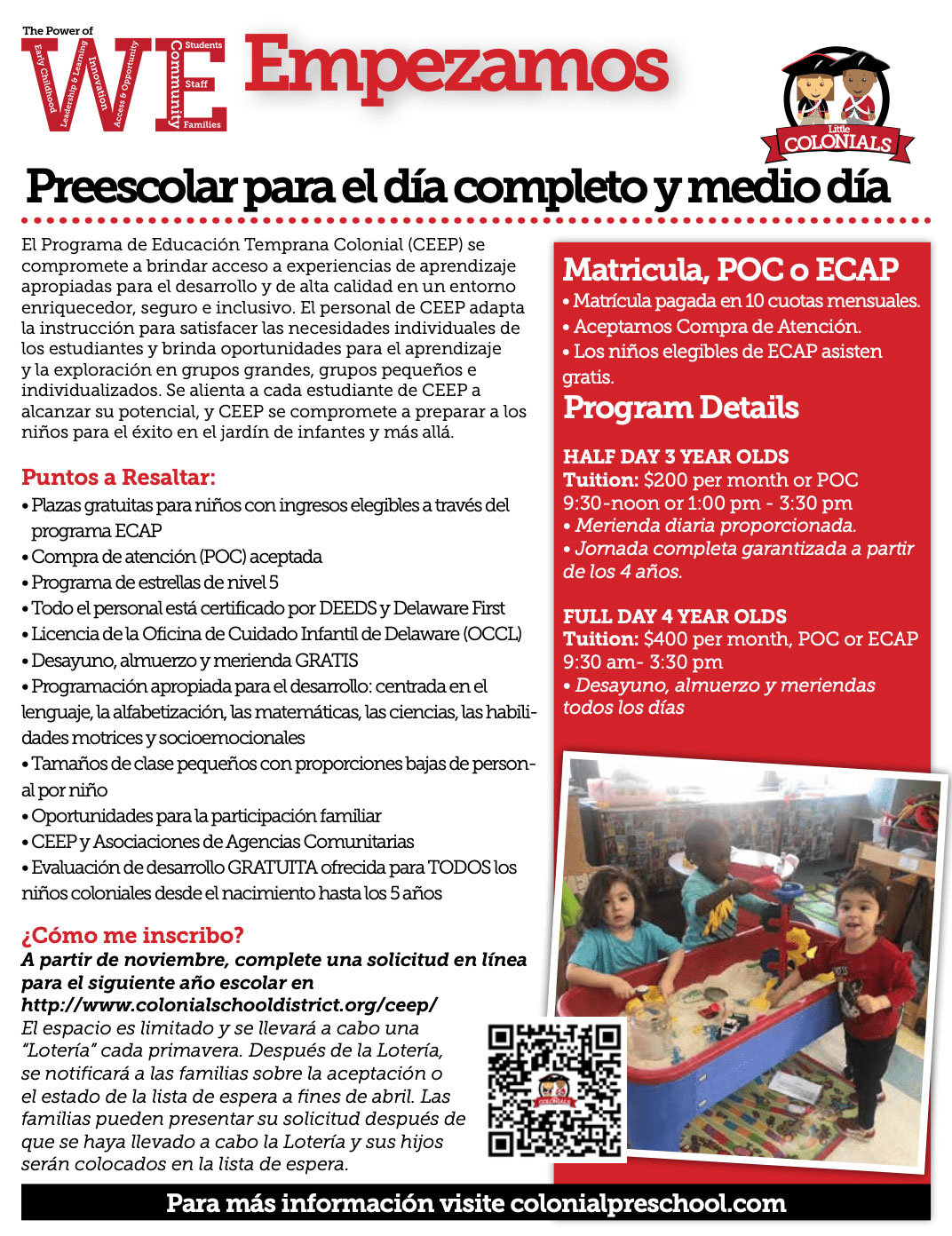 Colonial Early Education Program (CEEP)
Preschool Information:
CEEP is licensed by the DE Office of Child Care Licensing (OCCL), and all staff are DEEDs certified via the DE Department of Education.

CEEP follows the inclusion model, meaning children with and without disabilities are included in all of our classrooms and are engaging in activities side-by-side, all day, every day

. According to the National Association for the Education of Young Children (NAEYC) and the Division for Ear

ly Childhood (DEC), "Early childhood inclusion embodies the values, policies, and practices that support the right of every infant and young child and his or her family, regardless of ability, to participate in a broad range of activities and contexts as full members of families, communities, and society. The desired results of inclusive experiences for children with and without disabilities and their families include a sense of belonging and membership, positive social relationships and friendships, and development and learning to reach their full potential. The defining features of inclusion that can be used to identify high quality early childhood programs and services are access, participation, and supports."

All CEEP classrooms have a lead teacher, one or more paraeducators, and the support of occupational, physical, and speech/language therapists.  

Student to staff ratios in each classroom follow OCCL regulations. 

Itinerant service providers, who are teachers and therapists, work with children with identified disabilities at community preschools, child care centers, and Head Start centers.
Children with Disabilities:
To register a child with an IEP, call our main office, visit Colwyck, or email Erin Kirby at erin.kirby@colonial.k12.de.us. Mrs. Kirby will direct you to one of our Special Education Coordinators.  

To make a referral for a special education evaluation, contact our Colonial Child Find Team at

childfind@colonial.k12.de.us. To learn about the preschool special education evaluation process, watch this video.
Children without Disabilities:
Parents/guardians of children without disabilities must complete an online application by clicking on "PRESCHOOL APPLICATIONS" on this page. To attend CEEP, children without disabilities must reside in Colonial School District or have a parent/guardian who works for Colonial School District. Families must receive an "Invitation" prior to completing registration documents. Not all applicants will be Invited, as space is limited. If Invited, children without disabilities must be transported by their families. and are funded in one of three ways.  CLICK HERE to learn more.
Tuition, POC, and ECAP Information for Children without Disabilities:

—-Half day 3s tuition is $200 per month for 10 payments =$2,000 per year

—-Full-day 4s-$400 per month for 10 payments =$4,000 per year

—-Purchase of Care (POC)-Child Care subsidy available via DSS.

—-Early Childhood Assistance Program (ECAP) at Colwyck- FREE for income eligible children.
2022-2023 SCHOOL HOURS
Office Hours: 8:00-4:00

Full Day 4-year-old hours for 4s: 9:30- 3:30

AM 1/2 Day 3-year-old hours for 3s: 9:30 – 12:00

PM 1/2 Day 3-year-old hours for 3s: 1:00-3:30
PURCHASE OF CARE (POC) INFO:
CEEP accepts POC, a Child Care Subsidy, for students without disabilities.    

CEEP's POC Site ID is:  1710472400