The COVID-19 pandemic has created a need for a high-quality alternative learning experience to our traditional face-to-face program. In response, Colonial has developed the CSD Virtual Academy to begin in Fall 2020 which will allow students to learn outside their assigned school building. This approach will provide a rich and engaging experience for all learners that parallels that of in-person learning. 
Middle School Student Expectations
Attend all scheduled daily Zoom Classes and be on time

Actively engage in live Zoom sessions (ex. turn cameras on, respond in the chat, participate in breakout rooms, turn mics on to participate in whole- or small-group discussions.)

Commit to Zoom live as needed/directed by teachers

Commit to up to 6.5 hours per daily online and offline learning (Monday-Friday)

Complete/Submit all learning opportunities on Schoology

Regularly check Home Access Center to see if assignments are missing

Understand that the District Grading Policy is still in effect

Use district provided Chromebook

Engage in self-care activities that help to support your learning needs and emotional well-being

Recognize that your opportunities to participate in exploratory and extracurricular may be limited
Upcoming Schedule Beginning 2/01/21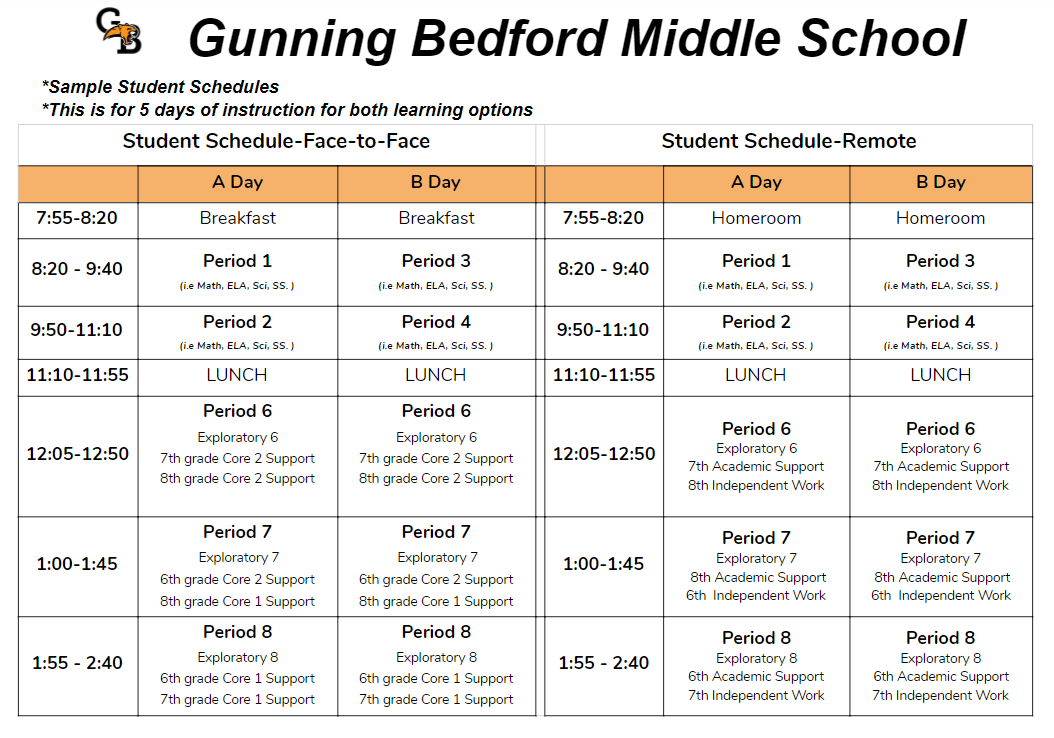 Current Schedule (Until 1/29/21)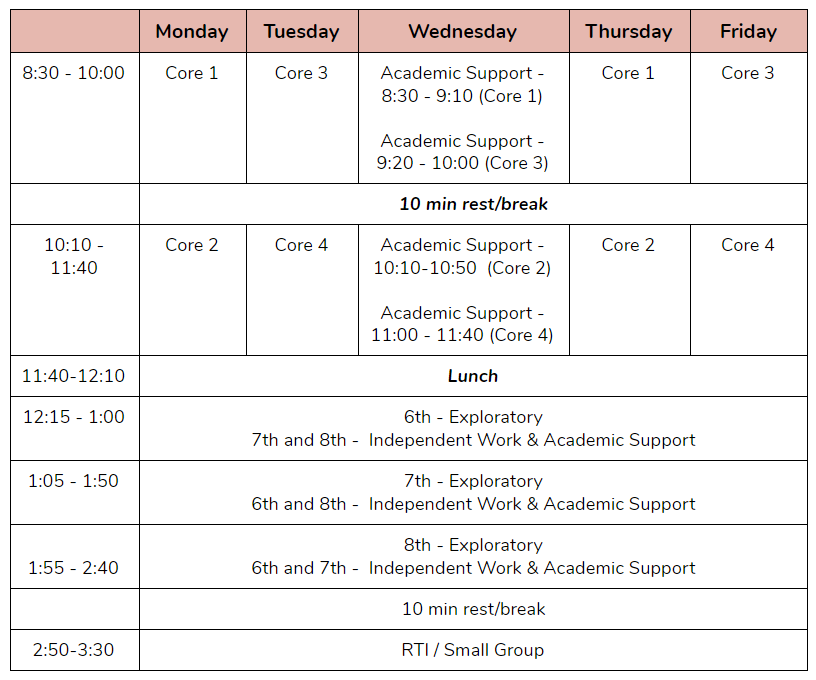 Attendance
Students will be considered to be present in the online learning environment when they:
Actively engage in live Zoom sessions (ex. turn cameras on, respond in the chat, participate in breakout rooms, turn mics on to participate in whole- or small-group discussions.)

Submit independent online assignments through Schoology or Google Drive to demonstrate learning.

Participate in online programs (Dreambox, ST Math, Imagine Learning, Imagine Math.)
Existing district attendance policies will be in effect for excused and unexcused absences.  Please consult individual school policies for submitting absence excuse notes/documentation.  Families who have opted into remote learning will continue to receive automated phone calls to alert you of your child's absence.
Nutrition Services: Remote Food Program

WE love feeding your students.  Colonial's Mobile Feeding Program strives to feed students through on site locations and mobile delivery.  CLICK HERE to find out additional information on locations, drop spots and more!
Technology Support
To fully participate in the CSD Virtual Academy, students will be required to have consistent access to a Chromebook or laptop and reliable internet connection. It is strongly suggested that students have earbuds or headphones available for attending Zoom sessions. We strongly recommend that students use a Colonial issued device as it will ensure that access to programs is available. If you have a Colonial device and have any questions or concerns about your device, CLICK HERE, to submit a technology help ticket.
Students and families, CLICK HERE, to find additional technology support and materials.  Additionally, students and families can call the district IT support number to gain technology assistance: 302-561-9195.
Gunning Bedford Digital Hub
The Gunning Bedford Digital Hub will provide students and families information and resources to assist with the 2020-2021 school year.
CLICK HERE to access the Digital Hub!
Policies, Responsibilities & Suggestions
Current school district policies for grading, student dress and adherence to the Student Code of Conduct will apply to students who participate in remote learning.  Review student and caregiver responsibilities and suggestions, and discuss with your child, as appropriate.  Note that younger students will need more caregiver support to participate successfully, however, parents are not expected to become their child's teacher.
Student Responsibilities

Caregiver Responsibilities

Take care of your Chromebook

Keep it charged

Carry it carefully

Keep your device in one place during Zoom meetings

Keep food and drinks away from your Chromebook

Attend Zoom

 sessions with your class and/or small group.

Keep Zoom links and passwords private.

Sign into Zoom sessions a few minutes before they start.

Participate in Zoom classes.

Manage your time to complete and turn in your independent assignments each week.

Complete 30 minutes of practice on 

Dreambox/ST Math

, and 

Imagine Learning

 each day.

Contribute to a positive online learning community.  Your teacher(s) will explain more about this when school starts.

Let your teacher know if you need help or you need to talk about something.

Support your child with their schedule, so they join Zoom sessions on time.  Younger children may need support in telling time.

Help your child identify a learning space and gather the necessary materials.

Maintain open communication with your child's teacher(s).

Check in with your child frequently and support them with time-management, task completion, and submission of independent assignments, as needed.

Remember that independent assignments should be completed by your child.

                                                                                                               

Suggestions for Students

Suggestions for Caregivers

Take breaks during independent work time

Get up and move

Get a snack or water

Practice a mindfulness exercise or brain break

Ask your teacher or caregiver to help you set up a schedule for completing independent work

Help your child maintain a regular sleep schedule (especially middle and high schoolers.)  Wake them up for Zoom meetings, if needed.

Check in to see whether your child needs a break, snack, or drink.

Set boundaries, so your child knows when you are available to help, and when they need to work independently,

Take care of your own well-being (physically, emotionally, mentally.)
Additional Resources