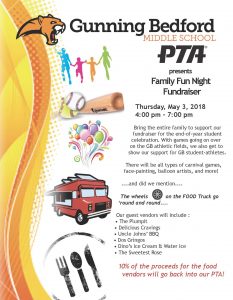 Bring the entire family to support our fundraiser for the end-of-year student celebration. With games going on over on the GB athletic fields, we also get to show our support for GB student-athletes.
There will be all types of carnival games, face-painting, balloon artists, and more!
….and did we mention….The wheels on the FOOD Truck go 'round and round….
Our guest vendors will include :
• The Plumpit
• Delicious Cravings
• Uncle Johns' BBQ
• Dos Gringos
• Dino's Ice Cream & Water Ice
• The Sweetest Rose
10% of the proceeds for the food vendors will go back into our PTA!