Tuesday, March 6th, Ms. Rathaus'  students debated whether or not teachers should be permitted to carry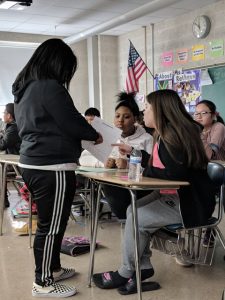 or store guns in school. Many teachers gave up their planning and other time to serve as judges for the debates, including:
Mrs. Woo, Mrs. Motley, Ms. Thomas, Mrs. Pine, Mr. Vann, Ms. Gallagher, Mr. Arent, and Ms. Wursta.
In the image, debaters are determining the best strategy as the debates move forward.
In the second image, Ms. Rathaus' first period class listens intently to the current debate.