Update – 5/19/2022
Snow Hours- For Teachers and Paras 
Reminder- there have been two snow days (1/3 & 1/7). Staff need to make up 15 hours. There are many ways this can be done before June 1st. Teachers and paraprofessionals can learn more in the Snow Hour Guidance Document. Presenters have started and will continue to update and add options to the PD catalog. 
Reminders about Snow hours/make-up time for 10 month employees: 
Type of Leave on




January 3, 2022 or




January 7, 2022

Will I be




paid?

Will my leave




be charged?

Do I need to make-up




Snow Hours?

Short term Disability
Yes
No
Yes
Parental Leave
Yes
No
No
COVID leave Days
Yes
No
Yes
Workers Comp
Yes
No
No
Sick Leave
Yes
No
Yes
Unpaid Leave of Absence
No
No
No
Equity ERA: Engage-Reflect-Act
Engage: Check out this podcast episode with UnSuk Zucker a Korean American, cisgender, grateful wife and mother, daughter, and sister who loves to cook and spend time with her friends and family; a dedicated social justice advocate; and racial equity leader. UnSuk's almost 20 years in the field of education includes roles as teaching grades K, 1, 2, 3, 4, and 5 in Idaho, Southern California and Colorado, Beyond Diversity Affiliate with Pacific Educational Group, teacher leader, Teacher Leadership Coordinator and School Improvement Partner for Denver Public Schools, Senior Manager and Director of Diversity, Equity and Inclusion at TNTP, and National SEED Project Staff Member. UnSuk holds a BS from College of Idaho and an MS from Walden University. Show Highlights: Defining Diversity; How do we value and celebrate diversity; Model Minority Myth; Raising kids of color in predominantly White spaces. You can catch the full episode here.
Reflect: What resonated with you most in this podcast?
Act:
STEP Into Next Year!
Looking to Improve your Practice?
Seeking a Network Improvement Community?
Consider applying for STEP in 2022-2023
Click this link to learn more about this opportunity in Colonial!
Technology Department Update
Over the past week, the Technology Department has handled an unusually high number of compromised email accounts.  We would like to remind everyone that if you receive an email requesting personal information, such as usernames and passwords, the chances of that email being a phishing scam is very high.  You should never share your passwords, social security numbers, or any personal information with anyone through email.  If you have any questions or concerns regarding emails you receive, please reach out to our Help Desk and we will be more than happy to assist!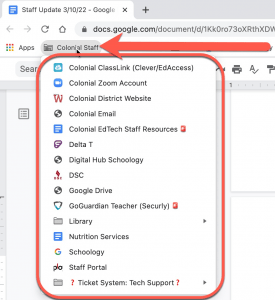 TECH TIP! 
Do you have a hard time finding your most used educational/district websites?!?!
Did you know Colonial uses a Colonial Staff Folder in Google Chrome to make accessing these websites easier (see screenshot)?
To access the Colonial Staff Folder in Chrome, be sure you are signed into Google Chrome! Directions for signing in can be found using this link and only takes a few minutes to complete.
We hope you find this resource useful!
HURRY! Nominate our next Educational Support Professional of the Year by 5/20!
Do you know a CSD staff member who is dedicated, inspiring, and making a difference?
A CSD • ESPY Award is given to a school employee whose position is instructional in nature or who provides other direct or indirect services to students and their parents such as:
• Paraprofessionals
• Instructional aides
• Custodial/Maintenance
• Secretaries
• Nutritional staff
• Constable
• Technology Specialist
• School bus drivers/aides
Nominate today by visiting http://www.colonialschooldistrict.org/about-us/support-professional-of-the-year/
Please submit nominations by Friday, May 20, 2022
McCullough teacher Beth Twardus named 2023 CSD Teacher of the Year
Superintendent Dr. Jeffrey Menzer surprised the 8th-grade McCullough Middle School math teacher with flowers and balloons this morning. She screamed in delight and said, "knowing the number of amazing educators that were also representing their buildings, to be chosen at the district level is huge…so yes, I'm very surprised!" Check out the video at http://www.colonialschooldistrict.org/about-us/teacher-of-the-year/
ABOUT BETH
Beth Twardus gets choked up when asked how she wants her students at McCullough Middle School to remember her saying through tears, "Always being cared about is important to me. I want them to know that times can be tough but there's always someone there in their corner." That someone is their 8th-grade math teacher. Twardus has been running with the young Mustangs for 15 years and makes a special effort to get to know her students so she can detect when they're having good days and bad which can affect their classroom performances. Twardus admits teaching middle school students can be challenging saying, " they've got hormones going on, they're trying to fit in, keep up and find theirplace. I think it's just knowing how to navigate that and create a learning environment that is structured is important so students know what they're walking into everyday. It gives them a sense of balance." Twardus counts on families for support, calling them her teammates. "I am holding a very high standard for their children. Just as they believe their students can do anything, I believe that too!"
Watch the video and learn more about all of our CSD Teachers of the year at http://www.colonialschooldistrict.org/about-us/teacher-of-the-year/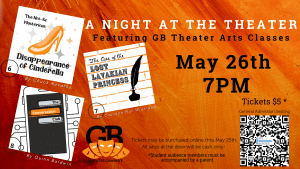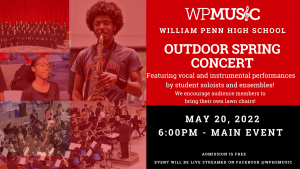 Covid Information 
Weekly Testing by Quidel
Eligibility:
Open to students, employees, student teachers, contractors who work regularly with Colonial
Must be pre-registered by using this link
Testing Schedule for 5/20-5/30
Friday, May 20th: George Read (7:30am), Wallin (8:40am), Wilbur (8:15 am), Operations Center (9:00 am)
Monday, May 23rd: Carrie Downie (8:30 am), Eisenberg (8:00 am), Wilmington Manor (8:30 am)
Tuesday,  May 24tth: Pleasantville (8:30 am), Southern (7:45 am)
Wednesday, May 25th: William Penn (7:45am, 3:00pm-4:00pm), Gunning Bedford (8:30 am), Leach (8:30am), Colwyck (10:30am)
NOTE: Leach and Colwyck sites are only open to students and employees of those sites.  No walk-ins will be allowed
Thursday, May 26th: Castle Hills (8:30 am), McCullough (8:30 am), New Castle (8:30 am)
Friday, May 27th: George Read (7:30am), Wallin (8:40am), Wilbur (8:15 am), Operations Center (9:00 am)
Reminders:
Quidel testing will not occur on Monday, May 30th due to the Memorial Day Holiday.
Final day of Quidel testing for students and staff will be Wednesday, June 8th.
Employee Resources
Free Headspace Meditation App available for all Colonial Employees
All employees of Delaware school districts and charter schools are invited to sign up for a free, one-year subscription to the Headspace Meditation App. This app provides participants with simple ways to achieve mindfulness throughout the day. The practice of meditation has been shown to reduce stress, foster compassion and increase overall happiness. To get started, register online with a district or charter school email address. Personal email addresses will not be accepted. (DDOE contact: Teri Lawler)
Free Individual Counseling available for all Colonial Employees 
The Center For Child Development is making their services available to Colonial employees who are interested in participating in confidential, 1:1 telehealth counseling with a licensed therapist during these uncertain times.  Colonial employees do NOT need to go through the district's EAP program to access this service.  The Center for Child Development is owned and operated by William Penn graduate Lisa Savage and provides services in 8 Colonial schools as well as many schools across the State of Delaware.  In addition to working with children, select CCD therapists also work with adults and specialize in evidence-based practices designed to support our ability to manage stress and cope with difficult circumstances.  All services are strictly confidential.  To learn more about The Center For Child Development and/or to request an appointment, visit https://Thecenterforchilddevelopment.com